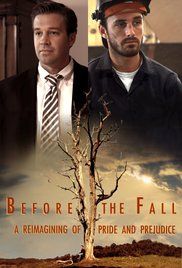 Vote:

6.9

Quality:

HD

Category:

Comedy, Drama, Romance

Starring:

Ethan Sharrett, Chase Conner, Jason Mac, Brandi Price

Director:

Byrum Geisler
Storyline: Before the Fall (2016) A re-imagining of Jane Austin's "Pride and Prejudice" set in modern day, rural Virginia with Elizabeth Bennet as a man. Ben Bennet is an affluent but seemingly arrogant attorney who unknowingly insults Lee Darcy, a detached factory worker wrongly charged with domestic abuse. Both men form an immediate dislike for each other which becomes a significant problem when Ben falls in love with Lee.