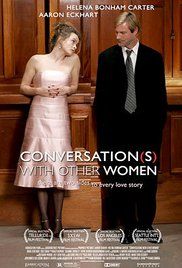 Vote:

7.1

Quality:

HD

Category:

Comedy, Drama, Romance

Starring:

Aaron Eckhart, Helena Bonham Carter, Yury Tsykun, Brian Geraghty

Director:

Hans Canosa
Storyline: Conversations with Other Women (2005) A man runs into a woman at a wedding. They start to flirt and talk and find that they get along. Throughout their discussion, the man talks about certain memories as if they were common to the two of them. We gradually learn that there may have been a previous connection between these two when they were younger. This just leaves more questions as their past is slowly revealed.